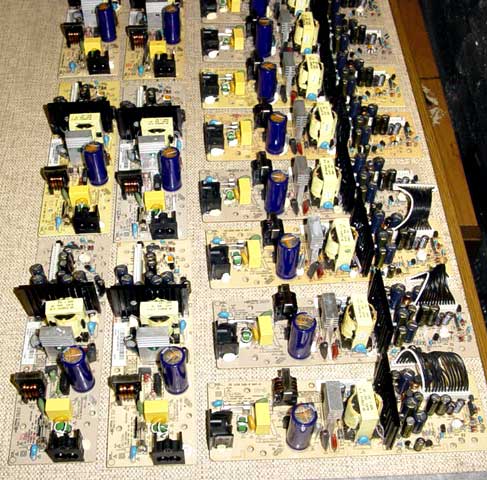 Refurbished Sky HD power supplies from DigiFix
Power supply failure is the most common fault on the Thompson DSI8210CS Sky HD box, it accounts for 95 percent of all faults. These can include no satellite signal received, stuck in 'Standby', picture breaking up on recording, box making a buzzing noise - and many more symptoms.
Simply replacing the power supply with a new one will only provide a short term cure as failure of the power supply is down to using poor quality capacitors in manufacture and it wont be long before the new one suffers the same fate.
At Digifix we don't just repair power supplies to component level, we also upgrade them with the best quality Panasonic, low ESR 105 degree capacitors on the market, this ensures that your re-built power supply will last (in all probility it will outlast the rest of the box!)
Digifix Ltd designed the HD power supply repair kits that you see at www.satcure.co.uk
We also refurbish, on a weekly basis, the exchange power supply modules that Satcure sells. Please note though, we do not directly sell the DIY power supply repair kits, these were designed for Satcure and they hold the rights to the kits. Should you want to repair your own power supply please contact www.satcure.co.uk for price and availability on a repair kit.
We can, however, supply individual spare parts - such as the chopper control I.C, Mosfet ETC for engineers who carry out there own repairs, we have repaired hundreds of these power supplies and have in-depth knowledge of the more complex faults. If you are a engineer stuck with a problem me.
I will be able to help - but please don't write long rambling e mails; I run a very busy shop and time constraints mean that long emails are unlikely to get a reply.
Power supply repair cost is £32.95. For this you will get a repaired and fully upgraded unit. Due to shortages we do not operate an exchange scheme like satcure do.
Send me your suspect power supply and, if it's faulty (and they usually are), it will be repaired/upgraded/tested and posted back. If the power supply is found not to be faulty - as in 5 percent of cases - it will be posted back with just the return delivery charge of £2.95 to pay. You can of course send your whole box but then return delivery charge is £10 due to weight. Personal callers are welcome at the shop where we offer free estimates on all repairs. However, if you are travelling a long way please telephone first in case I am away from the shop for some reason. If you get no reply first time, ring back as I may be with a customer and unable to answer the phone. Please note: shop closed all day on Wednesday and Sundays.